The resilience of the East Midlands business community during a tough trading environment will be celebrated at a trio of upcoming awards ceremonies later this year – and firms are invited to put themselves forward for recognition.
Entries are now open for the East Midlands Chamber Business Awards 2023, which includes three gala dinner celebrations in Derbyshire, Leicestershire and Nottinghamshire.
Businesses, charities and individuals from each county will be recognised across 14 categories, ranging from Outstanding Growth and Excellence in International Trade through to Environmental Impact and an Education and Business Partnership Award.
Headline partner Mazars will also select a Business of the Year winner for each county. Last year's winners were Katapult (Derbyshire), Scope Construction (Leicestershire) and Copley Scientific (Nottinghamshire).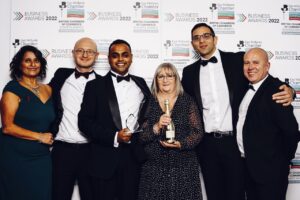 East Midlands Chamber chief executive Scott Knowles said: "With the cost-of-doing-business crisis following hot on the heels of the pandemic and Brexit, the past few years have been as tough a trading environment as many of us can recall.
"Despite this, we've seen tremendous resilience on display among our region's business community, which has found new ways to grow, innovate and collaborate.
"We are once again hugely excited about celebrating these achievements in our Business Awards, which are always one of the most highly-anticipated events in the Chamber calendar – thanks to the sponsors that help to make it happen."
The deadline for the East Midlands Chamber Business Awards 2023 is Monday 17 July.
Finalists will be announced at a president's summer celebration on Thursday 24 August and they will then have a chance to state their case at virtual judging panels taking place on the week commencing 11 September.
Gala dinners take place in November on the following dates:
Friday 3 November: Leicestershire Business Awards
Friday 10 November: Nottinghamshire Business Awards
Friday 17 November: Derbyshire Business Awards
Current sponsors include Mazars (headline partner), Air IT, Amazon, Aston Lark, Blueprint Interiors, Cambridge & Counties Bank, Concertus, De Montfort University, DHL, Eight Days a Week Print Solutions, emh group, ER Recruitment, Eversheds Sutherland, Express Recruitment, Fraser Stretton Property Group, Futures Housing Group, Geldards, ITS Technology Group, Loughborough College, Nottingham Trent University, Purpose Media, Rolls-Royce, RSM UK, University of Derby and University of Nottingham.
To enter the East Midlands Chamber Business Awards 2023 or to find out about sponsorship opportunities, visit www.emc-dnl.co.uk/services/business-awards 
East Midlands Chamber Business Awards 2023 categories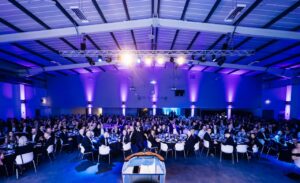 Business Improvement through Technology
Community Impact Award
Outstanding Growth Award
Environmental Impact Award
Commitment to People Development Award
Apprentice of the Year
Entrepreneur of the Year
Education and Business Partnership Award
Excellence in Customer Service
Excellence in International Trade
Small Business of the Year
Excellence in Innovation
Excellence in Collaboration
Business of the Year