Young professionals and entrepreneurs across the region have been recognised among the finalists of East Midlands Chamber's Generation Next Awards 2023.
The awards, held in conjunction with headline partner the University of Derby, celebrate the achievements of young professionals and business leaders aged under 35, as well as organisations led by people in this demographic.
More than 80 individuals are recognised in the shortlist across the 11 categories – ranging from a Start-up Award and Equality, Diversity and Inclusivity Award through to marking achievements in Innovation and Technology and the Generation Next Future Leader.
A new prize this year recognises rising stars in businesses, aimed at professionals across all levels, including junior roles.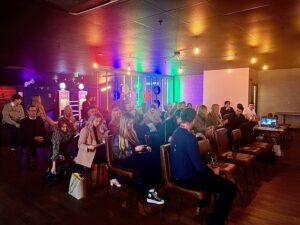 Lucy Robinson, East Midlands Chamber's director of resources and Generation Next lead, said: "The Generation Next Awards are a celebration of the contribution our young people make to their communities across the East Midlands.
"We received our highest number of applications this year, and are always blown away by the achievements of the entrants. Our shortlist of finalists offers a glimpse into the amazing young talent that exists here in the region."
Virtual judging days will take place on 9 and 10 May, in which finalists will be interviewed by members of the Chamber's senior management team, Generation Next board and sponsors.
Winners will be crowned at an alternative awards ceremony on 13 July, where the network will return to Bustler Market in Derby to build on the success of last year's event, which welcomed more than 200 people.
The shortlist was revealed during an event held at Roamdome in Leicester last night (Wednesday 26 April), in which Taylor Gee, last year's winner of the Community Award who has since gone on to establish his own business Design Only Gardens, gave a speech.
Tickets for the Generation Next Awards ceremony at Bustler Market, Derby, on 13 July cost £65 + VAT for Generation Next members and £75 + VAT for non-members. A 10% discount will be applied on the purchase of five or more tickets. Visit bit.ly/GNAwards23
Generation Next Awards 2023 finalists
Apprentice of the Year (sponsored by Loughborough College)
Abbie Hartshorn: Apprentice test engineer, British Standards Institution
Ella Mossop: Recruitment consultant, Express Recruitment
Evie Culligan: Marketing executive, Invictus Group Ltd
Hattie Parnham: Apprentice painter and decorator, Ashby Decorator Centre
Kai Taylor: Audit semi-senior, MHA MacIntyre Hudson
Phoebe Bromley: Accounts assistant, Express Recruitment
Polly Oakes: Digital marketing executive, Express Recruitment
Rebecca Houlston: Head of brand marketing, Cross Productions
Callum Cole-Needham: Trainee financial planning administrator, Future Life Wealth Management
Sophia Shapcott: Marketing and development executive, Smith Partnership
Creators and Makers Award (sponsored by PPL PRS)
Dan Poynton: Founder and CEO, On Poynt Creative
Deshaun Hancock: Founder, Bloom and Flow
Izzy Plummer: Graphic designer, TTK Confectionery
Nathan Addai: Founder, Mental Roots
Olivia Waldron: Digital marketing co-ordinator, MHA MacIntyre Hudson
Tom Young: Feature writer, Cross Productions
Yudan Deng: Lead of language teaching and content, Follow the Orient
Liberty Always: Digital marketer, Bam Boom Cloud
Jamie Quince Starkey: Founder and director, Down to Earth Derby
Nayaab Mohamed: Founder, Nayaab Mahomed Limited
Customer Service Award (sponsored by Express Recruitment)
Archie Hill: Graduate management trainer, The Silver X Group
Ben Wileman: Senior leasing consultant, Select Car Leasing Burton-on-Trent
Ben Wilkinson: Tax manager, MHA MacIntyre Hudson
Cameron Hogan: Senior creative manager, videographer and photographer, 'AV IT! Media
Ella Sheppard: Senior associate, Nelsons
Georgia Evans: Digital marketing executive, Paragon Sales Solutions
Harriet Fell: Client services apprentice, Purpose Media
Josef Hicks: Business applications second line support engineer, Bam Boom Cloud
Nicole Perkins: Procurement officer, Futures Housing Group
Rebecca Cliff: Employer engagement marketing executive, Nottingham Trent University
Entrepreneur of the Year (sponsored by Fraser Stretton Property Group)
Dan Poynton: Founder and CEO, On Poynt Creative
Jack Thompson: Managing director, Thompson Tree Services Midlands
Jordan Cooley: Managing director, ICS Group Midlands t/a ICS Electrical Contractors
Joseph Bentley: Managing director, ACT Medical
Michael Gladwell: Head of enterprise, Upbeat Communities
Olly Fisher: Managing director, Repeat Digital
Paulina Poziomska: Managing director, Volt-Age
Rob Spence: Managing director, Paragon Sales Solutions
Environmental Warrior Award (sponsored by Hydropath Technology)
Ben James Stuchbury: Founder, Intertwined
Jamie Quince Starkey: Founder and director, Down to Earth Derby
David Allerton: Founder, SE-LF
Komal Shahzadi: Chairperson, Enactus DMU
Nikolas Kordula: Cost manager, Turner & Townsend
Sam Whetton: Founder, Reika Bags
Grace Golden: Director, Pretzel Energy
Equality, Diversity and Inclusivity Award (sponsored by Futures Housing Group)
Katie Michaels: Founder and designer, Moti Me
Michael Gladwell: Head of enterprise, Upbeat Communities
Nathan Addai: Founder, Mental Roots
Samantha Morley: Employer engagement co-ordinator for ESF Reskill and Recover, Nottingham Trent University
Innovation and Technology Award (sponsored by Hardy Signs)
Joseph Bentley: Managing director, ACT Medical
Finlay Riggott: Business analyst, Cosy Direct
Louise Flood: Business analyst, Express Recruitment
Marian Muresan: Systems administrator, RDD Europe
Paulina Poziomska: Managing director, Volt-Age
Purpose Media team
Rising Star Award (sponsored by Nottingham Trent University)
Cerys Graham: Trainee architectural technologist, Morrison Design
Emma Priestley: Head of product, ACT Medical
Fran Jesson: Bakery project manager, TTK Confectionery
Hattie Parnham: Apprentice painter and decorator, Ashby Decorator Centre
Jack Wilkinson: Business development executive, Express Recruitment
James Bird: Accounts assistant apprentice, The Silver X Group
Katie Michaels: Founder and designer, Moti Me
Nayaab Mahomed: Founder, Nayaab Mahomed Limited
Ross McLeod: Assistant project manager, Turner & Townsend
Ruby Birks: Project manager, Purpose Media
Start-up Award (sponsored by Nottingham University Business School)
David Allerton: Founder, SE-LF
Joseph Bentley: Managing Director, ACT Medical
Sam Whetton: Founder, Reika Bags
Volunteering and Charitable Impact (sponsored by ITS Technology Ltd)
Courtney Brindley: Assistant to the temporary division, Express Recruitment
David Allerton: Founder, SE-LF
Jo Walchester: Head of marketing, Rotheras LLP
Kate Frisby: Trainee solicitor, Nelsons
Leah Binney: Buying director designate, TTK Confectionery
Hopeful Futures team, Hope Against Cancer
Shannon O'Neill: Volunteer perinatal peer supporter and student social worker, Connected Perinatal Support CIC
Yudan Deng: Lead of language teaching and content, Follow the Orient
Future Leader Award (sponsored by headline partner University of Derby)
Joseph Bentley: Managing director, ACT Medical
Joshua Leach-Aslam: General manager, Ocean King
Renee Sunnar: Business applications support team leader, Bam Boom Cloud
Ruby Birks: Project manager, Purpose Media
Sarah Deaves: Senior project manager, Turner & Townsend
Theo Kirk: Director of people, Express Recruitment
Umar Razah Boodhoo: Managing director, Mauricare
Verity Mitchell: Head of fundraising, Base 51