A medtech entrepreneur aiming to revolutionise the treatment of knife victims and a recruiter who has worked her way up the ranks into senior leadership were among the East Midlands' rising stars honoured at the Generation Next Awards 2023.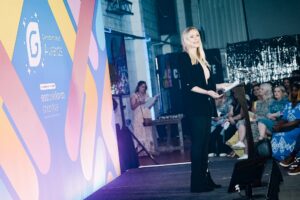 Eleven awards were handed out at the event hosted by East Midlands Chamber, which runs the Generation Next network to support young people aged under 35, who are working in businesses across Derbyshire, Leicestershire and Nottinghamshire. to build their skills and networks.
A key milestone in Generation Next's calendar, the awards returned to Bustler Market in Derby last night (13 July) for an awards ceremony with a twist, featuring street food, cocktails, Project D doughnuts and a DJ set from BeauJack – held in association with headline partner the University of Derby.
The network used the space to exhibit a handful of local businesses, each founded by young entrepreneurs, and the three community foundations in Derbyshire, Leicestershire and Nottinghamshire that will benefit from this year's Chamber Charitable Fund.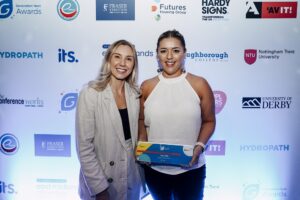 Theo Kirk, who has worked her way up Nottingham-based Express Recruitment from recruitment consultant to people director, won the headline Future Leader Award.
After being promoted to operations director last year, Theo created a new position at the recruitment firm to provide HR support to contribute to strategic plans for development, training, incentives and high-performance working.
While completing her human resource management course, she has incorporated her own organisation TK Consulting into the business, where Theo uses her expertise to help other companies with their people strategies.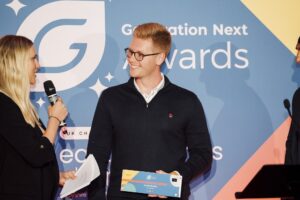 Another big winner of the night included Joseph Bentley, founder and managing director of ACT Medical, who won both the Entrepreneur of the Year and Innovation and Technology accolades for his REACT technology, which he developed in his final year at Loughborough University.
The technology is designed to inflate inside a penetrating wound, using a balloon to provide direct internal pressure to the bleed site, to save lives from knife crime.
Among other winners included Jamie Quince Starkey, founder of Down to Earth Derby, which facilitates nature-based regeneration in cities; David Allerton, founder of self-care gift box company SE-LF; and Abbie Hartshorn, an apprentice test engineer at the British Standards Association.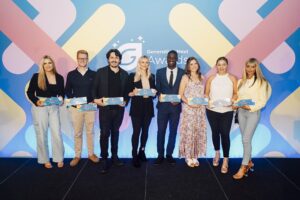 East Midlands Chamber director of resources and Generation Next lead Lucy Robinson said: "It was fantastic to return to Bustler Market for our awards ceremony this year and to bring the young business community together for this event.
"Each year we are blown away by the calibre of young talent across Derbyshire, Leicestershire and Nottinghamshire, and are so proud to not only be able to celebrate it, but also showcase it for the wider region to see the importance of investing in our young people.
"Congratulations to all the winners and finalists from this year's awards. From my standing, the next generation of business in our region is in good hands."
TV presenter, journalist and broadcaster Kirsty Shelts hosted the awards ceremony, which also featured speeches from Generation Next chair Daniel Nikolla; last year's Future Leader winner Emma Roberts, who leads not-for-profit Derby Community Parent Programme CIC; and East Midlands Chamber president Stuart Dawkins.
Generation Next Awards winners 2023
Future Leader Award, sponsored by University of Derby
Theo Kirk – Express Recruitment
Apprentice of the Year, sponsored by Loughborough College
Abbie Hartshorn – British Standards Institution
Creators and Makers Award, sponsored by PPL PRS
Jamie Quince Starkey – Down to Earth Derby
Customer Service Award, sponsored by Express Recruitment
Ella Sheppard – Nelsons
Entrepreneur of the Year, sponsored by Fraser Stretton Property Group
Joseph Bentley – ACT Medical
Environmental Warrior Award sponsored by Hydropath Technology
Sam Whetton – Reika Bags Ltd
Equality, Diversity and Inclusivity Award, sponsored by Futures Housing Group
Nathan Addai – Mental Roots
Innovation and Technology Award, sponsored by Hardy Signs
Joseph Bentley – ACT Medical
Rising Star Award, sponsored by Nottingham Trent University
Ruby Birks – Purpose Media
Start-up Award, sponsored by Nottingham University Business School
David Allerton – SE-LF
Volunteering & Charitable Impact Award, sponsored by ITS Technology Group
Courtney Brindley – Express Recruitment