Midland Lead, which supplies construction firms across the world with building products made from recycled lead, has been crowned the Derbyshire Business of the Year by East Midlands Chamber.
The Swadlincote-based, family-run company – which produces more than 15,000 tonnes of lead per year – also won the Commitment to People Development category at the Derbyshire Business Awards, which was held on Friday (10 November) in association with headline partner Mazars.

It received the recognition after transforming company culture and making long-term investments in its 36-strong workforce. These have included weekly team meetings, feedback mechanisms, company talks, external reward specialists, staff benefits, and a clear pay and progression matrix for people so they can build a career within the firm – with the result being increased attendance, staff retention and productivity.
The Derbyshire Business Awards recognised East Midlands Chamber members across 13 categories, ranging from Excellence in Innovation and Environmental Impact at organisational level through to individual honours for Entrepreneur of the Year and Apprentice of the Year, in addition to the overall Business of the Year winner.
Finalists, chosen by a judging panel of the Chamber's senior leadership and board of directors, as well as sponsors, discovered their fate during a gala dinner attended by 350 people at Derbyshire County Cricket Club.
Scott Knowles, chief executive of East Midlands Chamber, said: "The winners of our Business Awards are testament to the resilience, ingenuity and hunger for growth within the Derbyshire business community, which never ceases to amaze.
"Despite some of the relentless challenges that have been thrown their way, our region's businesses continue to find new ways of succeeding and contributing to the communities in which they are based.
"It's always important to celebrate these achievements and shout about the great things happening right here in Derbyshire. We know it's a fantastic place to do business and these organisations are shining examples."
The Derbyshire Business Awards – one of three awards hosted by the Chamber, along with Leicestershire and Nottinghamshire – were hosted by former badminton world champion Gail Emms MBE and featured live entertainment from high-energy party band Central Avenue.
A raffle was held to raise funds for the Chamber Charitable Fund, which comprises president Stuart Dawkins' three chosen charities for this year – Foundation Derbyshire, Leicestershire and Rutland Community Foundation, and Nottinghamshire Community Foundation.
For more information on the East Midlands Chamber Business Awards, visit www.emc-dnl.co.uk/business-awards
Winners of Derbyshire Business Awards 2023, in association with headline partner Mazars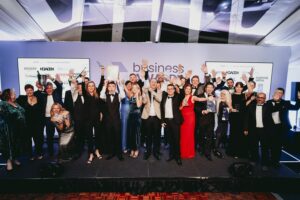 Business Improvement Through Technology (sponsored by Purpose Media)
Coach Hire Comparison
Community Impact (sponsored by University of Derby)
Derventio Housing Trust
Outstanding Growth (sponsored by Amazon)
EcoTech Engineers
Excellence in Collaboration (sponsored by ITS Technology Group)
Colleague Box and Blue Light Card
Environmental Impact (sponsored by Futures Housing Group)
HSG UK
Commitment to People Development (sponsored by think3)
Midland Lead
Apprentice of the Year (sponsored by Toyota Manufacturing UK)
Leah Bancroft – Longbow Bars & Restaurants
Entrepreneur of the Year (sponsored by East Midlands Manufacturing Network)
Steven Thai – Ocean King
Education and Business Partnership (sponsored by The Vertas Group)
EMA Training
Excellence in Customer Service (sponsored by Howden)
Reformed IT
Excellence in International Trade (sponsored by East Midlands Freeport)
Bloc Digital
Small Business of the Year (sponsored by University of Derby)
Bloc Digital
Excellence in Innovation (sponsored by Rolls-Royce)
Rose Cottage Doggy Daycare
Business of the Year (sponsored by Mazars)
Midland Lead