The new chair of East Midlands Chamber's board of directors believes the region's businesses will demonstrate their resilience despite 2023 set up to be a challenging year.
Kevin Harris, Leicester office managing partner at audit, tax and consulting services firm RSM UK, took over from Ian Morgan OBE as chair on 1 February.
He was previously chair of the Leicester and Leicestershire Enterprise Partnership for four years and is a former president of the chamber of commerce for Derbyshire, Leicestershire and Nottinghamshire.
Kevin said: "Without doubt, this is going to be one of the most challenging years for East Midlands businesses. Many would be forgiven for being battle-weary as the cost-of-living crisis, and the impact of the pandemic and Ukraine war, are leaving deep imprints on the ability of local companies to survive and thrive.
"But I have a huge amount of optimism in our business community. Despite the difficulties, they are showing their mettle and resilience in the face of adversity and getting on with what they do best, which is running their businesses in local, national and international markets.
"However, they can't do that in isolation, which is why taking up the mantle of chair for the Chamber in 2023 is a privilege with purpose.
"Our region's businesses need an environment in which to flourish, to invest in skills and capital, and boost productivity.
"They are a vital part of the UK's GDP and important for job and wealth creation. The levelling up and devolution agenda locally needs to remain high on the UK's agenda, and my role will be to champion this and many other issues our local businesses need to succeed."
Ian Morgan OBE says it has been 'immense honour' to be Chamber chair
The board of directors includes 16 experienced, respected and successful individuals who specialise in various fields and business sectors. Its role is to assist the senior leadership team in driving the Chamber forward strategically and ensure it represents the interests of its members, as well as more broadly businesses and communities across the East Midlands.
Ian, who is also the chairman of Derbyshire County Cricket Club and deputy chairman of transport company Wellglade Group, steps down after four years in the role.
He was awarded an OBE in 2015 for services to the bus industry and business in the East Midlands, and is the High Sheriff of Derbyshire in Nomination for 2024/25.
Ian said: "It has been an immense honour and privilege to chair East Midlands Chamber for the past four years. It is the leading business representation organisation with over 4,000 members and some 12,000 businesses affiliated to it in one way or another.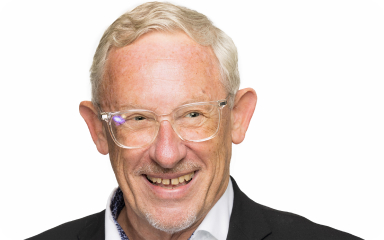 "Successfully guiding, advising and supporting the business community through Brexit, Covid-19 and the aftermath of both is the hallmark of the Chamber's work, and I am proud to have played my part.
"It has a well-motivated, dedicated team led by chief executive Scott Knowles, and a first-class senior management group together with an outstanding board of directors with whom it has been a pleasure to work.
"In passing the baton on to Kevin Harris, I know the Chamber is in very good hands. Kevin is a long-standing board member, a recent past president and he is part of the organisation's very DNA. The local business community could not have anyone more experienced or dedicated to the future of local business than Kevin and I wish him every success."