Derby will be home to the headquarters of Great British Railways after winning a national competition.
Transport Secretary Mark Harper confirmed the new public body, which will be responsible for running the UK's rail network, will be located in the East Midlands city.
It fought off competition from other shortlisted locations – Birmingham, Crewe, Doncaster, Newcastle and York – after scoring highest in a six-week public vote that was backed by East Midlands Chamber. There were more than 5,000 votes between Derby and the undisclosed second-placed city.
The competition aimed to identify a location with a rich railway heritage, where links to the rail network could help solidify this place as the new home of rail travel in the UK. Derby is already home to the UK's largest train factory – owned by Alstom – where about 2,000 people are employed.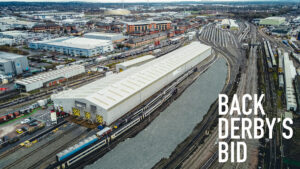 East Midlands Chamber chief executive Scott Knowles said: "This is fantastic news for Derby, cementing the city's position as a national centre of the rail industry while delivering a huge boost to the local economy.
"Derby and the rail industry go hand-in-hand, with a 200-year legacy as the centre of UK rail remaining highly relevant today as the home of the country's largest train factory, alongside the many small businesses in the supply chain that have established one of Europe's largest rail clusters.
"Bringing the Great British Railways headquarters to Derby builds on this expertise, further developing the skillsets from its industrial heritage and shines a spotlight on the city's economic strengths.
"When combined with other exciting regional projects such as the East Midlands Freeport, this will help to attract new investment from companies that may wish to be located near a national centre of excellence and create jobs for these skills to thrive – benefits that will be felt across the wider region and all relevant to the Government's levelling up agenda."