The Leicestershire-based businessman behind a successful pharmaceuticals company and charity has been presented with a special award by East Midlands Chamber.
Dr Nik Kotecha OBE DL, former chair of Loughborough-based Morningside Pharmaceuticals and current chair of the Randal Charitable Foundation, was honoured for his Outstanding Contribution to East Midlands Communities at the Celebration of Culture and Communities event on 17 March.
Presenting the award, East Midlands Chamber president Stuart Dawkins spoke about Dr Kotecha's journey from arriving with his family in Leicester from Uganda, aged six years old, to become a scientist specialising in drug discovery and then an entrepreneur whose business with a moral purpose has exported around the world.
"He has advised a number of national Government departments, being recognised for his work by the awarding of an OBE," said Stuart.
"Closer to home, he has brought this expertise to many working groups here in the Midlands. Among many other things, he is a pro-chancellor at De Montfort University and is a Deputy Lieutenant of Leicestershire.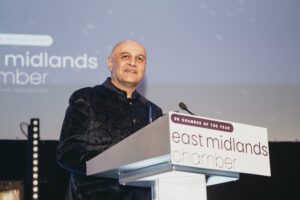 "After securing the legacy of his business via a disposal last year, he is now devoting his time to the charity he founded with his wife Moni in 2017, the Randal Charitable Foundation, aiming to save lives and significantly improve the quality of life for those in need –in the UK and around the word.
"That is a wonderful track record."
Dr Kotecha said: "I was humbled to receive the Outstanding Contribution to East Midlands Communities Award because helping to directly save and significantly improve the lives of people living in the UK and globally has been a lifelong passion of mine.
"Throughout my professional career, I've always ensured that every business venture has given back to communities and society as a whole, and more recently this work has continued through my family's Randal Charitable Foundation.
"I'm also immensely proud to continue to volunteer on a number of local, regional and national boards and advisory groups, which are working to nurture and grow innovation, entrepreneurship and productivity across the business community.
"Much of this work is focused on ensuring we deliver sustainable long-term growth, which in turn secures jobs and the future prosperity of our many diverse communities."
East Midlands Chamber event celebrates region's diverse mix of cultures
The annual Celebration of Culture and Communities event, held in partnership with emh group and De Montfort University, featured music, dance and food from across the world, delivered by East Midlands-based performers and caterers.
About 250 guests turned out at Athena in Leicester, with many wearing traditional dress associated with various cultures.
They enjoyed a three-course Indian banquet by Sanjay Foods, while entertainment was provided by the University of Leicester's Bollywood Dance Society and Asian Dance Society, Leicester-based rapper Strizzy Strauss, Derby-based ceilidh performer Schuggie and Soft Touch Arts – whose act included a dance troupe, poet and acoustic guitarist.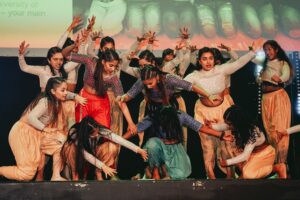 Chan Kataria OBE, chief executive at emh group, also delivered a speech about the importance of embracing the equality, diversity and inclusion agenda within businesses.
Dr Kotecha added: "The Chamber's annual Celebration of Culture and Communities event is such an important occasion because it celebrates how equality, diversity and inclusion have brought great cultural and economic benefits to the people, communities and businesses in this region.
"Each year, the event brings together hundreds of people from a wide range of cultural backgrounds and faiths to celebrate the excellent work taking place to improve opportunities across the great East Midlands.
"Thank you to the Chamber and everyone in attendance for supporting the occasion, which through the medium of dance, music and food, vividly tells our region's inspirational diversity and inclusion story."