Business owners, city officials and police officers in Derby will join forces to fight crime including shoplifting and vandalism during the city's first-ever Safer Business Action Day.
The Derbyshire Business Crime Reduction Partnership (BCRP) will bring together partners from Derby's St Peters Quarter and Cathedral Quarter Business Improvement Districts (BIDs), Derby City Council's enforcement and support services team, and Derbyshire Constabulary at Derby QUAD on Tuesday 17 October from 10am.
They will meet with local businesses to provide a range of crime prevention information, including raising awareness of local issues, conduct joint enforcement patrols and carry out targeted intervention of offenders.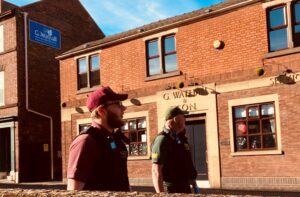 Derbyshire BCRP is run by East Midlands Chamber in partnership with the Derbyshire Police and Crime Commissioner Angelique Foster. Membership is currently funded by the St Peters Quarter and Cathedral Quarter BIDs, and its 300-plus members can access Disc, an online crime information-sharing system that connects businesses with local police forces.
Safer Business Action Day – part of a national initiative that aims to deliver a focused operation in engagement, intelligence, prevention and enforcement – takes place as the British Retail Consortium warns retail crime is soaring across the country, and Office for National Statistics data shows the number of shoplifting incidents reported to police increased by 24% in the year to March 2023.
Jackie Roberts, project manager for Derbyshire BCRP, said: "With the latest figures highlighting how shoplifting is becoming a rising concern for high street businesses and their employees, it's never been more important for us to work together on these issues.
"The successful prevention of crime requires contributions from a wide range of people on the ground, including businesses, BIDs, council teams that oversee the city centre and police officers.
"We are therefore delighted to be hosting our first-ever Safer Business Action Day to raise awareness about our presence, highlight local issues and work together on strategies that will ultimately make our high streets safer and more resilient."
Safer Business Action Day will bring together wide range of stakeholders
Brad Worley, BID manager for the Cathedral Quarter and St Peters Quarter BIDs, said: "Safer Business Action Day is a critical initiative that brings together a diverse group of stakeholders, recognising that the successful prevention of crime demands collective efforts from businesses, city partners and law enforcement. In a time when retail crime is on the rise nationwide, it's imperative for us to collaborate, raise awareness and strategise together to safeguard our high streets and enhance their resilience."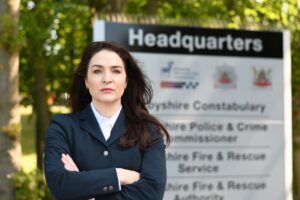 Angelique Foster, Derbyshire Police and Crime Commissioner, said: "Economic prosperity for Derbyshire and Derby city is reliant on healthy profitable organisations. We must do all we can to help our hard-working Derbyshire businesses succeed and that is why I am fully supportive of this type of initiative.
"I am also working with the police and other partners to find the most effective ways we can help to prevent business crime and catch criminals. Like Derbyshire residents, our businesses expect and deserve a strong local policing service to protect them, and I will work with them to ensure this service meets their needs."
Business owners and managers are invited to also meet with Angelique and Councillor Hardyal Dhindsa, cabinet member for communities and street pride at Derby City Council, to hear of plans for the city. The event is open to all businesses.
For more information about the Safer Business Action Day event, contact Laura Cowley at the Derbyshire BCRP on laura.cowley@emc-dnl.co.uk