More than 1,000 ambitious businesses across Derbyshire, Leicestershire and Nottinghamshire have received valuable support to embrace new technologies courtesy of an East Midlands Chamber-led programme.
The Digital Upscaler project, which part-funded by the European Regional Development Fund (ERDF) and ran from 1 April 2020 to 30 June 2023, provided SMEs with knowledge, investment and capacity to scale-up.
It achieved this via intensive digital adviser support and specialist consultancy, capital grants to support technology investment, dedicated peer networks and a comprehensive programme of strategic action-planning workshops.
Technology grants valued at £1.6m in total, delivered as part of the project, have supported companies across a range of sectors to acquire and integrate new enterprise resource planning (ERP) and material requirements planning (MRP) systems, new access and entry systems, as well as install high-performance servers and high-speed Wi-Fi.
Digital Upscaler project in numbers
Outcomes from the Digital Upscaler included: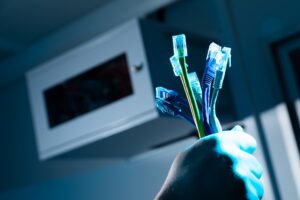 1,068 businesses supported
7,598 hours of business support interactions delivered
20 grants awarded – valued at £1.6m
5 specialist consultancy projects brokered
1,877 bookings secured on an events programme, which resulted in attendance figures of 1,363 (73% attendance rate)
272 businesses supported in accessing over 12 hours of support
15 businesses supported to introduce new products and services through the grant scheme.
Diane Beresford, deputy chief executive at East Midlands Chamber, said: "Digital technology support has been a core service of East Midlands Chamber for many years now. A significant part of that offer was Digital Upscaler, the impact of which can be seen both in the project's deliverables and in the subsequent growth of the businesses supported.
"ERDF support may well have ended but the Chamber's innovation and technology specialists continue to be on hand to guide scaling businesses on tapping into support from the Chamber's new East Midlands Accelerator projects and through national programmes such as Made Smarter and Innovate UK EDGE."
Digital Upscaler case studies
Examples of how East Midlands businesses used Digital Upscaler support and grant funding include:
Powering up digital transformation
Datalink Electronics – Charnwood, Leicestershire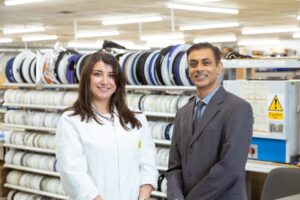 Datalink Electronics Ltd designs and manufactures innovative, high-tech electronic products. The business was established in 1984 and today employs a workforce of 35 at its Loughborough base. The business serves a variety of industrial sectors, including oil and gas, as well as scientific instrumentation.
The company needed to accelerate its digital transformation strategy to drive cost and time efficiency across the business. In addition, it became business-critical to bolster IT capabilities to react to emerging business challenges arising from the pandemic.
To meet these objectives would mean investing heavily in upgrading its IT infrastructure, including procuring a new high-spec operational server and upgrading its material requirements planning (MRP) system.
Help was at hand from the Digital Upscaler project, which provided a £23,000 grant and expert-led digital advice from one of East Midlands Chamber's digital technology advisers.
Datalink's finance director Mariam Smith said: "At the time, the financial outlay would have impacted on Datalink's cashflow – the grant covered 30% of the cost, which was extremely helpful."
The project has supported the successful acquisition and integration of high-performance servers, which will transform the firm's interworking capabilities and support future growth.
This empowers it to cater for remote working within a secure environment, support dynamic interworking, and significantly reduce manual manipulation of data to improve accuracy.
Gearing up for the future
Great British Car Journey, Ambergate, Derbyshire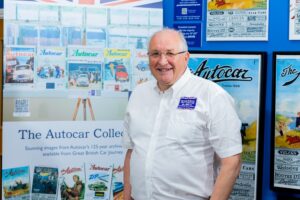 Great British Car Journey exhibits a unique collection of motor vehicles, dating from the 1920s through to the present day. Its annual 35,000 visitors are taken on a nostalgic and emotive journey through the automotive ages. There are some 130 cars on show, of which visitors are able to drive 40.
When this popular visitor attraction secured the rights to reproduce historical issues of Autocar magazine, it fell on its chair Eddie Hoare to evaluate and develop the commercial opportunity this presented.
Eddie knew the arrangement had the potential to provide an exciting and much-needed new revenue stream for the attraction. His objective was to understand how to develop an e-commerce channel that would enable the digitisation of visual assets, so these could be reproduced onto canvases and t-shirts for online ordering by customers and car enthusiasts.
One-to-one digital technology advice from the Digital Upscaler project allowed the museum to create a strategic roadmap to deliver a robust digital merchandising platform and launch a new online store, providing both an enhanced visitor experience and a valuable new revenue source.
Eddie Hoare, Great British Car Journey chair, said: "The arrangement with Autocar presented a great opportunity for us. It gave us the rights to digitise various publishing assets and use these to create a range of memorabilia.
"I had very limited experience in this area and wanted to access the specialist advice offered by the project. I've always been keen to learn, and the Digital Upscaler project has given me much more knowledge and confidence."
Digital transformation on track
Home Curtains, Sutton-in-Ashfield, Nottinghamshire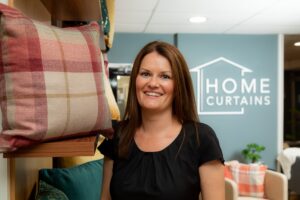 Home Curtains (UK) is a second-generation wholesaler and manufacturer of household textiles and soft furnishings, established for more than 35 years.
Based in Sutton-in-Ashfield, it is one of the area's business success stories, enjoying an annual turnover in excess of £5m and employing a 35-strong workforce.
But the company was at risk of lagging behind in terms of digital transformation. Before engaging with the Digital Upscaler project, many financial and stock management tasks were still handled manually, while departments across the organisation were not equipped to embrace smart working practices.
This was brought into sharp focus during the pandemic, when it became clear the IT systems in place were simply not advanced enough to support modern business practices.
A £40,000 technology grant and one-to-one digital technology advice from an experienced adviser enabled the integration of a new enterprise resource planning (ERP) system, installation of high-speed Wi-Fi, and implementation of a new access and entry system.
Stacy Clifford, finance director at Home Curtains, said: "The Digital Upscaler project has helped us to identify and implement major technological improvements. We've already seen significant efficiencies, which I'm confident will be instrumental in ensuring the business continues to go from strength to strength in the future."
Further information on the businesses supported through the project is available at www.emc-dnl.co.uk/services/digital-upscaler
Businesses interested in the next generation of innovation support are invited to contact the Chamber's innovation and growth team on 0333 320 0333 or info@emc-dnl.co.uk.