The impact of high inflation and rising interest rates is now being felt in the economy as demand slows for East Midlands businesses, new data shows.
Research from East Midlands Chamber shows both domestic and international sales, as well as advanced orders, have dipped in recent months.
While growth in the workforce remained similar in the three months to September compared to the previous quarter, future prospects for employment have dropped by a third – suggesting the region's low unemployment rate could be set to rise slightly.
The business representation group's Quarterly Economic Survey (QES) for Q3 2023, delivered in partnership with the University of Leicester School of Business, also shows investment intentions – a key ingredient in driving forward productivity and reducing inflation – remain low and business confidence is subdued.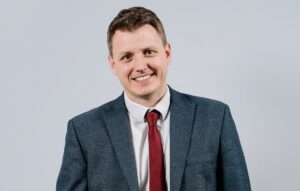 East Midlands Chamber's director of policy and insight Chris Hobson said: "Following a strong first half of the year, the results of the latest Quarterly Economic Survey suggest the impact of 14 consecutive interest rate rises between November 2021 and this summer may be starting to have effect, as we can see with slowing sales activity and employment projections.
"In a further sign the heat has come out of inflation, the percentage of businesses anticipating they will need to put up prices has fallen to 30% – almost half of what it was 12 months ago. The pressure from the price of raw materials, utilities and labour costs has all softened, with only a small increase in businesses reporting greater price rise pressures from the fuel pump.
"For several quarters now, the results of this survey have run counter to the wider mood music in the economy. However, for the first time since the start of the year, the Chamber's State of the Economy Index – a barometer measuring a combination of activity and sentiment indicators – has dropped back, albeit only slightly.
"With regards to what this all means, next quarter's results will be telling. The September decision by the Bank of England to keep interest rates as they are has been welcomed by many businesses. They feel the Bank's desired impact – to soften demand – is already being felt, with a lag time between rate decisions and any actual effect taking hold.
"Key now will be to see how far the slowdown will go. Any talks of a recession are premature, and with inflation now coming down steadily – and the uncertainty of a General Election on the horizon – it is important the economy can find its new level quickly and confidence can return to consumers and businesses alike."
East Midlands Chamber QES Q3 2023 data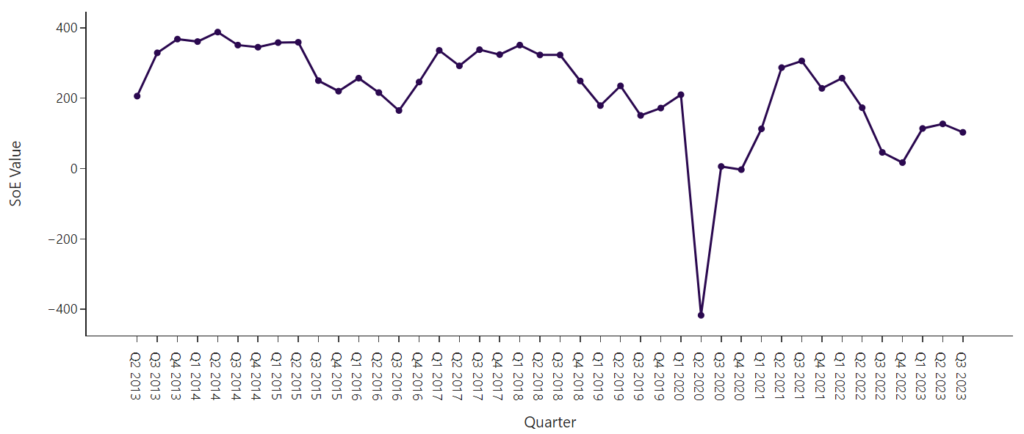 Key findings from the Quarterly Economic Survey Q3 2023 for the East Midlands, which was completed by 296 organisations between 21 August and 14 September 2023, included:
UK and overseas sales each fell by a net 2% and 14% respectively between the second and third quarters of the year, with no movement in advanced UK orders growth and a net 1% drop in international advanced orders
63% of businesses added to their headcount in Q3 2023, compared to 62% in the previous quarter and 60% before that to illustrate a slight growth in the region's workforce. However, employment prospects look weaker going forward with the proportion of businesses expecting to recruit falling by a net 8%
Many employers continue to face challenges with filling job vacancies – 58% of organisations attempted to recruit and, of those, two-thirds (67%) experienced problems in finding suitable staff
Rising prices resulting from cost pressures for energy, raw materials, people and fuel continue to ease, with a net 27% of businesses expecting they will be forced to raise their own prices – down from a net 31% the previous quarter and net 52% in the first three months of 2023
Worries over access to cash also eased slightly, with a net 1% increase in firms saying cashflow was up
Intentions to invest in plant and equipment increased for a net 4% of companies, but was down by a net 4% for investment intentions in people
Business confidence shows a mixed picture, with confidence in turnover prospects down by 2% compared to the previous quarter but up by 1% for profitability expectations.
Professor Mohamed Shaban, associate dean for business and civic engagement at the University of Leicester School of Business, said: "The findings from the Quarterly Economic Survey Q3 2023 for the East Midlands are unsurprising and almost identical to our expectations in the second quarter, after the increase in the base rate trend to curb inflation in the past few months.
"Most investors envisage marginal or no increase in the interest rates soon. The critical question that currently swirls inside investors' heads is how long interest rates will stay at such a level. The longer the period, the longer the economic slowdown will be, as investors will opt to delay investments until they observe a reverse in the upward trend.
"For the next few quarters, we expect investors and consumers to discount political signs and hints more in their investment and consumption decisions than monetary policy actions.
"It will be all about the political climate and financial market stability at home and abroad, particularly in the United States, in the next two quarters. Many people will identify signs of a U-turn on UK green policies, including a delay on a plan to boost the number of electric cars on Britain's roads.
"Political uncertainty will play a somewhat augmented role in the firms' decisions to invest and recruit. If we add the current high levels of interest rates and tense financial markets to such an unfavourable formula, the result is concerning – and we can expect little or no improvement in the business sentiment or growth indicators for the next quarter."
To read the full Quarterly Economic Survey report for Q3 2023, click here.