The Chamber's bespoke training service manages businesses' training requirements from start to finish, choosing which approach best addresses their needs and aligns with their objectives. In our latest training blog, head of leadership and training Vicki Thompson discusses the variety of ways in which members use the service.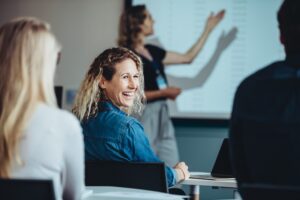 Internal systems support 
We can provide training bespoke to the internal systems within organisations, such as the Microsoft Office and Google suites, and even on methods to extend the efficiency of those systems through artificial intelligence applications and programmes.  
For businesses that require help in understanding the capabilities of their own IT systems and internal processes, the Chamber's trainers can review them to create specific training exercises and support. 
Business transformation support 
Once the trainer has completed their review of an organisation's internal systems, they can also identify ways to streamline processes to ensure teams and systems are working more efficiently. 
The improvements made to processes and systems can contribute to transforming the way employees work, creating a happier and more profitable workforce.  
Job-specific programmes
Whether it's director or management development, marketing and sales or health and safety training, the Chamber can curate training programmes specific to the skills needs of a department or individual.  
The bespoke offer allows team members to train together in a format that best suits their diaries – be that online, one-to-one or group sessions – and programmes can be customised to align to a department's core objectives.  
Aligning training programmes with company culture
By sourcing training programmes through the bespoke offer, the Chamber's trainers will use a consistent approach that is responsive to the organisation's needs in order to create an outcome aligned to the culture of the organisation.  
This ensures all employees are on the same page and working together towards unified goals.  
International trade training requirements
Businesses may also want to consider bespoke training for their international trade operations. This could involve dedicated delivery of our flagship programme, the International Trade Operations and Procedures (ITOPS) course, to the relevant team or providing export documentation training specific to a company's processes.  
To discuss your organisation's bespoke training requirements, get in touch with the Chamber's head of leadership and training Vicki Thompson at vicki.thompson@emc-dnl.co.uk.