An international logistics company has joined forces with the Chamber to support its International Trade Operations and Procedures (ITOPS) programme.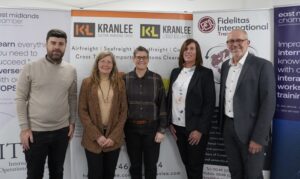 Chesterfield-based Kranlee is the programme's latest sponsor, and will be supporting delegates by adding its expertise to the course content. Members of the Kranlee team will also be taking part in the course, which is accredited by the British Chambers of Commerce.
The ITOPS programme provides delegates with practical experience of the procedures associated with an international trade administration environment. The course, which is co-owned and delivered in partnership with Fidelitas Training, runs over eight half days and is followed by an assessment.
Each workshop covers the main elements of export administration, where delegates learn how to avoid costly mistakes and improve their international trade procedures.
The Chamber's director of partnerships David Pearson, who heads up the international trade department, said: "The ITOPS programme is our flagship course as part of our international trade training service. More than 1,400 delegates have achieved the qualification, with many of them reporting significant cost savings for their business.
"We are delighted to welcome Kranlee on board as the new ITOPS sponsor, and thank the team for supporting the programme's delivery. I look forward to seeing its team members thrive on our future courses."
Kranlee specialises in worldwide transport logistics. It was set up in 2020 by siblings Karen Mosley and Lee Wells, who together have more than 30 years' experience in freight forwarding.
The company is dedicated to excellence, creativity and customer satisfaction, driving success through cutting-edge technology and expertise to create bespoke logistic experiences for its clients.
Karen said: "As a former graduate of the ITOPS course, it is invaluable for people involved in international shipping, whether that be for manufactures, importers, or freight forwarders. The information you learn is exceptional.
"To be involved with such a prestigious qualification and partner with the Chamber and Fidelitas International is fantastic. We cannot wait to start and pass on some of our knowledge to new and old graduates."
Lee added: "The ITOPS award is a significant qualification setting the standards for practical, up to date and relevant skills for anyone involved in international trade. At Kranlee, training is high on the agenda so to be selected by the Chamber and Fidelitas International as a training partner and sponsor of their flagship qualification is a great honour.
"We are looking forward to being involved in delivering some of the workshops, as well as offering visits to our offices for delegates so that they can achieve real hands on experience of completing customs entries, as well as undertaking some of the tasks that freight forwarders do to facilitate the movement of international freight."