BFY Group – an energy and water consultancy that has tripled in size over the past year – has been crowned the Nottinghamshire Business of the Year by East Midlands Chamber.
The Nottingham-based company – which works with three-quarters of the UK energy retail market and has helped suppliers in onboarding two million customers – also won the Outstanding Growth category at the Nottinghamshire Business Awards, which were held on Friday (17 November) in association with headline partner Mazars.
Driven by a mission to become the management consultancy of choice for the utilities industry, it has guided energy suppliers through the price crisis in order to reduce debt and support their own customers. The company, which aims to almost double headcount to 45 employees this year, has also featured across national media in providing authoritative industry leadership via its analysis on Ofgem's energy price cap.

The Nottinghamshire Business Awards recognised East Midlands Chamber members across 13 categories, ranging from Excellence in Innovation and Environmental Impact at organisational level through to individual honours for Entrepreneur of the Year and Apprentice of the Year, in addition to the overall Business of the Year winner.
Finalists, chosen by a judging panel of the Chamber's senior leadership and board of directors, as well as sponsors, discovered their fate during a gala dinner attended by 350 people at the Nottingham Belfry hotel.
Scott Knowles, chief executive of East Midlands Chamber, said: "The winners of our Business Awards are testament to the resilience, ingenuity and hunger for growth within the Nottinghamshire business community, which never ceases to amaze.
"Despite some of the relentless challenges that have been thrown their way, our region's businesses continue to find new ways of succeeding and contributing to the communities in which they are based.
"It's always important to celebrate these achievements and shout about the great things happening right here in Nottinghamshire. We know it's a fantastic place to do business and these organisations are shining examples."
The Nottinghamshire Business Awards – one of three awards hosted by the Chamber, along with Derbyshire and Leicestershire – were hosted by former badminton world champion Gail Emms MBE and featured live entertainment from high-energy party band Central Avenue.
A raffle was held to raise funds for the Chamber Charitable Fund, which comprises president Stuart Dawkins' three chosen charities for this year – Foundation Derbyshire, Leicestershire and Rutland Community Foundation, and Nottinghamshire Community Foundation.
For more information on the East Midlands Chamber Business Awards, visit www.emc-dnl.co.uk/business-awards
Winners of Nottinghamshire Business Awards 2023, in association with headline partner Mazars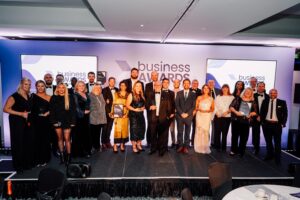 Business Improvement Through Technology (sponsored by Air IT)
Turner & Townsend
Community Impact (sponsored by Six Degrees Associates)
Primary Integrated Community Services
Outstanding Growth (sponsored by Business 2 Business)
BFY Group
Excellence in Collaboration (sponsored by East Midlands Manufacturing Network)
Think Pink Taxi Driver Alliance – Rosie May Foundation and DG Cars
Environmental Impact (sponsored by East Midlands Freeport)
Murphy & Son
Commitment to People Development (sponsored by Nottinghamshire County Council)
Ryley Wealth Management
Apprentice of the Year (sponsored by Eight Days a Week Print Solutions)
Alicia Anderson – The Motorfinity Group
Entrepreneur of the Year (sponsored by Eversheds Sutherland)
Mary Storrie – Rosie May Foundation
Education and Business Partnership (sponsored by University of Nottingham)
Base 51 Training Academy
Excellence in Customer Service (sponsored by Express Recruitment)
Rothera Bray
Excellence in International Trade (sponsored by DHL)
Medigarments
Small Business of the Year (sponsored by Nottingham Trent University)
BatFast
Excellence in Innovation (sponsored by Geldards)
BatFast
Business of the Year (sponsored by Mazars)
BFY Group