The president of East Midlands Chamber has called for businesses to put community and place at the heart of decision-making.
Stuart Dawkins said thriving communities can have a positive impact on companies by providing a stable base, and urged leaders to set aside dedicated time to consider how they can support their local areas.
During a keynote speech at the Chamber's Annual Dinner, held at East Midlands Conference Centre in Nottingham last night (Thursday 29 June), he suggested a good starting point for businesses is to speak to their local community foundations – public charities that facilitate and pool grants and donations to address community needs and support non-profits in a particular geography.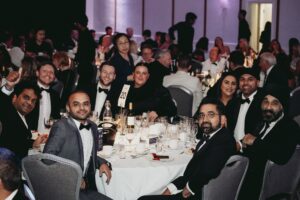 After reflecting on his past career as a trained economist, head of strategy and communications director for a FTSE 100 bank, Stuart said: "I do believe the market economy is an effective way to deliver the growth and wealth that underpins our society and our communities, but it seems to me that profit-seeking should be a means to an end – not the end itself. The growth and wealth generated by commerce ought to be able to provide public good, as well as personal reward.
"We all live in places – our customers live in places, our staff live in places, and our loved ones live in places. And those places form communities."
Addressing the 330 business leaders from across Derbyshire, Leicestershire and Nottinghamshire attending the black-tie gala dinner, he said: "My request of you is to please set aside some serious, proper time this year to consider how the work of your organisation can most effectively support the various communities of which you are a part.
"Think broadly. Without thriving communities, things become unstable, particularly for those with little or no economic power. Business does not thrive on instability.
"And when I say 'give some serious proper time', I mean the kind of time you give for the key business decisions you make – not just a quick canter through the topic. I have no idea what that time will lead to in your particular case, but I urge you to do it, please, and to act on it."
East Midlands Chamber's Charitable Fund supporting community foundations in 2023
Each year, the East Midlands Chamber president – an honorary role that rotates annually – chooses three charities from across the three counties to benefit from fundraising activities throughout the year.
The 2023 Chamber Charitable Fund comprises the region's three community foundations – Foundation Derbyshire, Leicestershire & Rutland Community Foundation, and Nottinghamshire Community Foundation.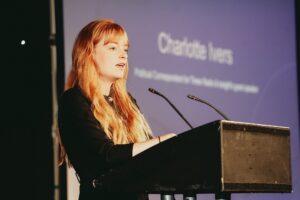 "Community Foundations are gems, but gems that are perhaps not as well-known as they should be," added Stuart, who now holds a number of non-executive board positions, including as chair of Leicestershire & Rutland Community Foundation.
"If you want a window on the real needs of your local community and on how to maximise the local impact of any charitable support you, your business or your customers want to give, I urge you to talk to your community foundation.
"They are each independent charities, whose role is to ensure funds get to those charities and other groups that have the most impact on local needs – often charities and groups you will never have heard of.
"It is so easy for such groups to be drowned out by the publicity and name-awareness of larger, more assertive, charities, and yet their work is often far more vital to the well-being of our local communities."
The Annual Dinner also featured keynote speaker Charlotte Ivers, a political journalist for Times Radio. She gave businesses an insight into the inner workings of Parliament and provided her views on key battles leading into the next general election.
For more information about East Midlands Chamber's Charitable Fund, visit www.emc-dnl.co.uk/chamber-charitable-fund
To find out more about the work of the three community foundations, visit: