Commenting on the publication of the Full Speed Ahead: Bringing high-speed rail to the East Midlands report by Transport for the East Midlands, which launched the document with an event in partnership with Midlands Connect in Derby today (3 July), East Midlands Chamber director of policy and insight Chris Hobson said: "This is a timely reminder to Government that, 18 months after the Integrated Rail Plan was published setting out its vision for bringing high-speed rail to the East Midlands, we now need to see some tangible activity towards fulfilling an ambition that is critical to the future of our region.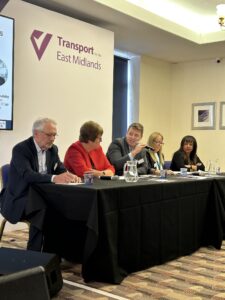 "The report also helps to reset the narrative slightly by shifting the focus on what HS2 enables in terms of the many economic benefits it can generate, including being a spark for regeneration in our towns and cities, connecting our communities to where future jobs are being created and driving innovation in nationally-critical industries.
"We know that investment begets investment, so if Government finally delivers on its promise to back the East Midlands – an area that receives the lowest public spend per head in the UK at 64% of the national average – then it can expect to see private sector money follow.
"It was great to hear the Rail Minister, Huw Merriman, acknowledge the importance of delivering HS2 East – alongside full electrification of the Midland Main Line – and we now need to see timescales from Government regarding when this project will finally be taken forward.
"Certainty is integral to the businesses whose investment will ultimately be needed for its full economic potential to be realised, as a stable policy environment supports long-term strategy planning.
"We hope Mr Merriman took away from his visit to Derby a recognition of just how important HS2 is to our region and will be re-energised to get it on to the Government's agenda as a priority project in the coming months, allowing firms to start factoring new rail infrastructure into their future decision-making."