After suffering a series of knocks over the past three years, East Midlands businesses are finally optimistic about what 2023 could bring, according to new research into the state of the region's economy.
Uncertainty has been replaced with confidence, there has been a turnaround in sales and companies are now expecting to employ more people once again, East Midlands Chamber's latest study illustrates.
Economic indicators covered by the business representation group's Quarterly Economic Survey (QES), which is delivered in partnership with the University of Leicester School of Business, have been largely negative since the end of 2021, but they are all now heading in the right direction during the first quarter of 2023.
East Midlands Chamber director of policy and insight Chris Hobson said: "Following an uncertain end to 2022, these latest findings demonstrate how businesses are beginning 2023 by displaying signs of growth and an increasing confidence for the year ahead.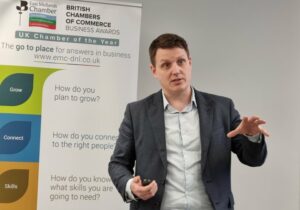 "Sales and advanced orders are steadily growing, cashflow is improving – although there are still significantly more businesses reporting a decline in cashflow (35%) as opposed to an increase (22%) – and price pressures continue their gradual drop-off.
"The relative certainty in the policy environment, at least compared to the constant flip-flopping that came before, is now leading to a significant upturn in business confidence and, therefore, investment intentions, which are crucial if we are to steer the economy back on track and achieve consistent growth.
"While the region's unemployment rate has been at historically low levels in recent times, our research had shown a decline in employers recruiting – mainly due to an extremely tight labour market driven by escalating numbers of economically inactive people since the dawn of the pandemic combined with longstanding skills shortages.
"So it's pleasing to see a positive swing, with a 7% increase in the proportion of businesses recruiting in the past three months and a 14% improvement in those expecting to add to their workforce before the summer, as this generates jobs and prosperity locally.
"While all this paints a far healthier picture than at the end of 2022, caution is required as many of these indicators are still down from where we were a year ago.
"We are moving slowly in the right direction but Government support is still required to 'get the basics right' by knocking down the everyday barriers to doing business, and then backing our firms to grow the economy by focusing on the 'four Is' – investment, innovation, infrastructure and international trade – all of which is laid out in our Business Manifesto for Growth."
East Midlands Chamber QES Q1 2023 data
Key findings from the Quarterly Economic Survey Q1 2023 for the East Midlands*, which was completed by 347 organisations between 13 February and 9 March, included:
UK sales grew by a net 1% between Q4 2022 and Q1 2023, with UK advanced orders up by 15%. Overseas sales and advanced orders were both up by 6% quarter on quarter
A net 12% of businesses added to their headcount in the first three months of 2023, marking a 7% increase compared to the previous quarter, while a net 30% of firms expect to recruit new staff in the next three months – a 14% increase
Recruitment problems persist but are dropping off gradually – six in 10 (59%) businesses attempted to recruit in Q1 2023 and, of those, 73% faced problems filling roles, but this was down from 81% in Q4 2022
A net 52% of businesses expect they will be forced to raise prices as they grapple with rising costs for people, energy, raw materials and fuel – although this is down from 57% in the previous quarter
While a net 13% of firms reported a decrease in cashflow, there was a 4% positive swing
Investment intentions are now trending upwards, with a 12% increase quarter on quarter in the net proportion of firms saying they will invest in training and a 6% rise for investing in plant and machinery
Business confidence is now in positive territory, with a net 39% optimistic about growing turnover over the coming year – a 15% rise compared to last quarter – and a net 8% (up by 11%) expecting to improve profitability.
Professor Mohamed Shaban, associate dean for business and civic engagement at the University of Leicester School of Business, said: "The survey results are yet another testament to the resilience of businesses in the East Midlands.
"Despite the challenges in the past few years, businesses have successfully navigated their way through the uncertain domestic and global economic environment.
"Businesses have endured credit tightening, an inflationary environment, supply chain disruptions and skilled labour shortages, which have collectively hindered the possibilities for growth.
"New initiatives are required to support businesses to invest in technologies that help them achieve higher levels of automation, nudge them towards net zero goals and empower them to invest in upskilling employees."
To read the full Quarterly Economic Survey report for Q1 2023, click here.